Underwood Xtreme Defender Ammo Overview
While taking advantage of state of the art testing equipment, this high performance ammunition (Underwood Xtreme Defender Ammo) by Underwood field tested using popular, real firearms that customers most likely to own out in the real world with all the elements you would experience. This ammunition new production, non-corrosive, in boxer primed, reloadable nickel plated brass cases.
Underwood Xtreme Hunter (XH)
The Underwood Xtreme Hunter (XH) born from the incredibly popular Xtreme Defender product line. Like the XD, the Xtreme Hunter (XH) ammunition has an optimized nose flute. Not only the PWC over 100% larger any other expanding bullet, terminal performance achieve despite shot through barriers.
Underwood nickel plating
The Underwood nickel plating process provides several key benefits including; improved feeding in all actions of firearms, enhanced corrosion resistance over traditional brass, improved cosmetics, and ease of cleanup during reloading. Nickel plated casings will not tarnish like brass during storage or when in contact with foreign materials such as leather, moisture, and other metals.
Features
A permanent wound cavity (PWC) that is 2 times greater than any expanding bullet
Reduced recoil
CNC machined from solid copper to overcome barriers for consistent penetration
Radial flutes that force the hydraulic energy outward due to massive pressure differentials
Optimized frontal surface area with barrier breaking edges to that increase the force at the point of contact that effortlessly defeat even the toughest of obstacles.
Specially designed geometry to carry the wound cavity deeper into the target than the XD, and larger than the XP.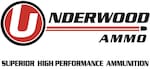 Made In United States of America