45 ACP Underwood Ammo Overview
While taking advantage of state of the art testing equipment, this high performance ammunition (45 ACP Underwood Ammo) by Underwood field tested using popular, real firearms that customers most likely to own out in the real world with all the elements you would experience. This ammunition new production, non-corrosive, in boxer primed, reloadable brass cases.
Hard cast flat nose bullets are non-expanding, powerfully penetrative bullets that designed with your woods defense needs in mind;  Hi-Tek NOT nylon, PTFE (teflon), or Molybdenum.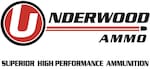 Made In United States of America