9mm Novx Ammo For Sale
Law enforcement (9mm Novx Ammo For Sale), tactical professionals, and those seeking the highest level of performance for self-defense will find the patent-pending combination of the NovX stainless steel case and poly/copper matrix projective delivers more power, more velocity, greater accuracy, less recoil, and more devastating terminal performance than ever thought possible.
Even the heaviest clothing barriers have no effect on the terminal performance of the fluted projectile. Upon entering soft tissue, the specially designed grooves in the nose harness the soft tissue and constrict, pressurize and eject it at 1.5 to 2 times the directional speed of the bullet.  This is the well-known Venturi Effect.
The NovX SST NAS3 Stainless Steel shell casing paired to a primer pocket constructed of 7078 hardened aircraft quality aluminum plated with nickel. The NAS3 stainless steel casing, far superior to extruded brass, provides strength, weight, dimension and alignment.
Features
Fluted poly/copper projectile creates massive wound channels
Stainless steel casing provides strength, power, alignment, and less weight
Flies fast, flat, accurate, and with less recoil for smoother target reacquisition
Reduced bore fouling and corrosion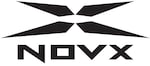 Made In United States of America