Novx 9mm Defensive Ammunition​ Overview
When it comes to training (Novx 9mm Defensive Ammunition​) and competitive shooting no bullet compares the NovX Cross Trainer/Competition. Lightweight, fast, accurate, and less recoil for quicker follow-ups. The copper polymer projectile frangible and breaks apart upon contact with hardened steel thereby reducing the chance of ricochet. It's also lead-free for compliance at ranges.
polymer-copper bullet
The RNP bullet version of the polymer-copper bullet the Round Nose Precision, a solid-core injection-molded copper-polymer bullet that rivals any competition-level target shooting cartridge.
The NAS3 stainless steel casing, far superior to extruded brass, provides strength, weight, dimension and alignment.
Features
Ballistically matched to +P Engagement Extreme
Copper polymer projectile frangible – breaks up upon impact with hardened steel
Stainless steel casing provides strength, less weight, and alignment
Flies flat, fast, accurate, and with less recoil for smoother target reacquisition
Increased efficiency and cycle rate
Reduced bore fouling and corrosion
Magnetic
Reloadable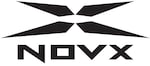 Made In United States of America