Noveske NSR 9 Overview
This Noveske Shorty Gen III Complete AR-15 (Noveske NSR 9) Upper Assembly comes fully assembled and ready to drop onto any standard AR-15 lower receiver. The Gen III upper a precision machined billet receiver from 7075-T6 with extended feed ramps. The upper finished with Hardcoat type III anodizing, with Cerakote ceramic black coating for the ultimate finish and performance.
This Gen III upper includes a Noveske NSR handguard with the M-Lok rail system and, with an outside diameter of only 1.48″ (without accessories attached), it is one of the slimmest, lightest, customizable handguards available for the AR-15 platform.
Noveske Rifleworks.
The Noveske Rifleworks. Noveske Rifleworks founded in 2001 to design and manufacture more lightweight rifle components like flash suppressors, gas blocks, and blackout barrels.
Noveske
The Noveske: Heli Hog Hunt (Texas) Noveske: Best of 2020. Noveske Rifleworks x WRM.FZY: Hobgoblin. NOVESKE: THE ONE WHERE MEGAN THROWS A PIE IN LRAD'S FACE. Noveske: Til My Hearts Stops Bleeding.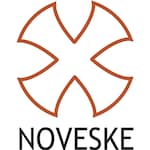 Made In United States of America